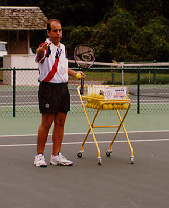 The U.S. High School Tennis Association is coming to Illinois, Saturday, August 5, for an information-packed day of high school tennis coaching!
The low-cost workshop is only $30 and doesn't require an overnight stay or hotel room.* You'll also receive a digital copy of the 200-page USHSTA coaches workbook ($16 value) and a membership in the USHSTA ($10 value). It's like getting the coaching workshop for only $4!
This workshop also qualifies for 7 hours of PTR continuing education credits.
*Starts at 10 a.m and ends at 6 p.m.
Workshop topics include:
Teaching girls to serve
Common coaching (and teaching pro) mistakes
Program administration
Planning a season
Team building
Daily practice plan, drills and conditioning
Intermediate-level strategy and tactics
Intro to tennis sport science
Mental toughness
The workshop will take place at the Midtown Athletic Club in Palatine Illinois, courtesy of Director of Tennis, Zane Fulton. Check out all of the details below: